Engaging Experiences – Concepts, Content & Creation
In-Person Conference | 5-6 July 2023 | Munich | #DSSE23
Digital signage and DooH have passed a critical inflection point. Digital touch-points like displays, LED or projection in physical spaces have become an indispensable platform in seamless, journey-focused communication. In general businesses as well as consumers are searching for unique and engaging experiences and digital signage offers the right tools and platforms.
Digital Signage Summit Europe (DSS Europe) 2023 will convene leaders from technology, communication, media, retail and corporate to address the state of experiences and discuss trends and drivers for the year ahead. DSS Europe is the world's longest running global digital signage event series presented as a joint-venture from Integrated Systems Events (ISE) and invidis consulting.
Join this year's DSS Europe to examine concepts unlocking the enormous potential of digital signage and DooH and the industry's latest trends and drivers.
On top of engaging experiences invidis presents a wide range of topics most relevant in changing and shaping digital signage and DooH.
Additional key agenda themes will include:
"We had a great experience at ISE last year, and it was fantastic to meet so many customers and sales partners again over 4 days, after two years without in-person events. The show was a big success for us, and we have generated numerous large projects as a direct result of our solutions being on show in Barcelona."

"We see ISE as a great way to raise our profile in the European markets and to make connections that deliver real business benefits for Avocor and our partners. Avocor enjoyed a great ISE last year and we'll be back in 2023 with an even bigger footprint, and some exciting new product announcements."
Key Theme | Engaging Experience
Digital Signage and DooH have come a long way and are indispensable in today's communication concepts. While mobile is the most interactive screen large screens in public spaces are the canvases the audience remembers the most. Roadside Digital out of Home (DooH) has evolved from a digital poster to a digital canvas with live, relevant, shareable, and compelling, inspiring storytelling.
3D-Campaigns with forced perspective content never fails to impress the masses - regardless if shown at Piccadilly Circus in London, K-pop Square in Seoul or at New York City's Times Square. Digital Lobby Experiences provide unsurpassed immersive moments telling corporate stories, data driven art or just great impressions from nature. Engaging Experiences are much more than video art as they extend the digital canvas into the physical space to create tailor made, location specific and unique moments.
Engaging Experiences is much more than just 'WoW', but includes smart, innovative, and effective ways of bringing first and third-party data to life, programmatically managed and delivered via multiple digital channels. At DSS Europe we will analyse and discuss how digital workflows are disrupting the digital signage industry as content can now be delivered in a fraction of a second.
Two day conference pass including access to all presentations, exhibition area, evening event, lunch, coffee and drinks on both days.
Book your Conference Pass
Two day conference pass including access to all presentations, exhibition area, evening event, lunch, coffee and drinks on both days.
The power of people coming together in-person cannot be overestimated. While the pandemic has shown us that collaboration platforms enable us to manage teams and projects, only face to face meetings provide the opportunity to meet and exchange views with like-minded leading business executives, end-users, creatives and investors.
DSS Europe offers unique ways to explore new business opportunities, examine fresh perspectives, expand your networks and to take an active role in shaping the industry in a creative, effective, and sustainable future.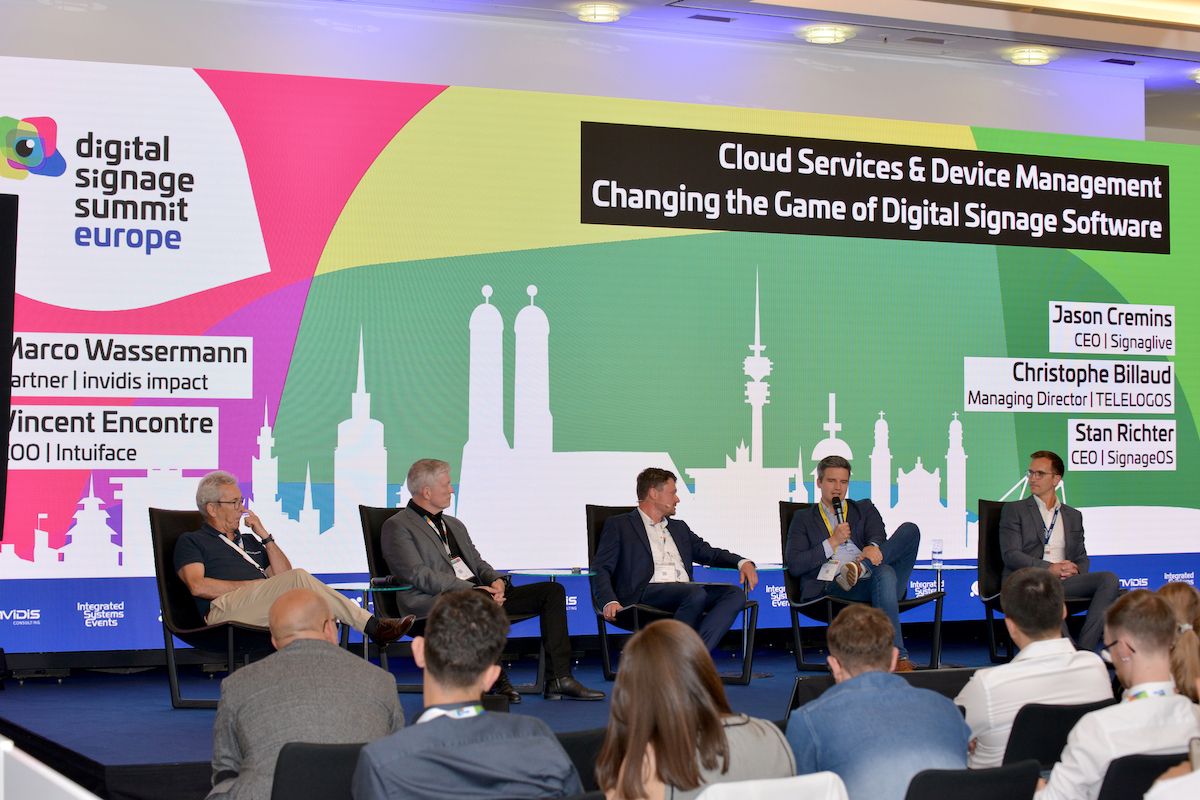 DSS Europe 2022 | invidis Keynote
The 2022 market keynote, the traditional opening speech of every Digital Signage Summit, provides an overview over the year's main industry events.
Held by digital signage experts and DSS organizers Florian Rotberg and Stefan Schieker of invidis consulting. The Digital Signage Summit (DSS) is traditionally held in Munich each summer. This is where the who's who of digital signage gathers to talk about the future of the industry. For us, this means finding the best speakers, stories, and innovations for our audience.
To receive daily digital signage news, sign up for the invidis newsletter: https://invidis.de/#servicecards