What's next in the residential market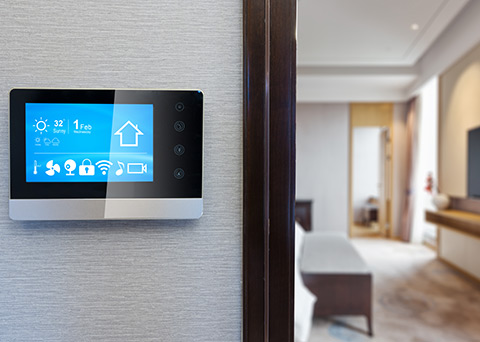 In the smart home sector, technologies for health and wellbeing, 'living at work' and sustainability have risen to the top of client agendas – and all of these will be reflected at ISE 2024.
Momentum in the residential space is contributing toward a global smart building market worth over $338 billion by 2030 (per Fortune Business Insights).
The adoption of smart buildings is still significantly influenced by energy efficiency. Home owners and businesses alike are putting more effort into lowering their energy usage with sustainability a byproduct. By maximising HVAC, lighting, and other systems, smart building solutions help achieve these objectives.
For building owners, automated energy management, preventative maintenance, and lower operating costs all contribute to an impressive return on investment. For occupants, features like personalised lighting and climate control, touchless entry systems, and digital signs help create a more comfortable and effective environment.
At ISE 2024 look out for how artificial intelligence (AI) and data analytics are being linked with smart building solutions to offer more sophisticated features and insights. Many sectors are embracing smart building solutions catered to their specific requirements, including healthcare, retail, hospitality, and commercial real estate.
Smart home connectivity and inhouse security are some of the most impactful technologies in this sector. Connectivity is integral to the overall function of a smart building as it covers network connection of devices as well as overall integration and control for the user.
Home security covers such topics as video doorbells, smart sensors to alarm for burglaries, and cybersecurity technology to protect integrated devices from outside hacking. As security experts will tell you, your home is only as safe as the weakest link and the weakest link in a smart home could be your fridge.
There is a need to make life as simple as possible for users to set up multiple devices and to solve issues of incompatibility that have plagued the smart home sector. A year ago, momentum was building behind new communication protocol Matter, which builds on the existing technologies such as Wi-Fi, Bluetooth, ethernet and Thread to allow smart devices of different brands to talk with each other.
Backed by Amazon, Apple and Google, as well as nearly all the major smart home brands including Samsung, the platform launched with a flurry of activity and reportedly has over 1000 products certified. But only a fraction of that number of product has actually launched. If Matter does not make waves at ISE 2024 questions must be asked as to whether interoperability, the most challenging barrier to mass smart home adoption, will ever be resolved.
More evidence that the worlds of professional and residential AV are converging will be shown at ISE 2024. The so-called resimercial trend happened in part as a consequence of Covid when commercial integrators moved into the residential business to meet growing consumer demand.
The technologies, design and engineering processes that are needed for residential and commercial installations across multi-dwelling properties, restaurants, hospitals or sports bars are largely the same. As one example, consider lighting design and touch control panels. In residential spaces, the lighting plan might include window shades for light and climate control. Transfer the same touchpanel to the conference room, and it becomes a one-touch solution to get a room meeting-ready.
Brands including Crestron, Netgear, Lutron, Yamaha, and major display suppliers such as LG, Sony and Samsung, operate successfully in both spaces. It means that residential integrators should consider potential verticals, methodology and skill sets that lend themselves to pro AV. Conversely there are also opportunities for custom integration and consumer products in commercial environs like boutique hotels and independent bars.
Where to find residential solutions at ISE 2024
CEDIA's Smart Home Technology Conference offers an a-la-carte selection of education and training sessions. A key focus for the organisation at ISE 2024 will be its new RP22 recommended practice document for immersive audio design. Produced over three years with input from across the industry, the guidelines set criteria for four levels of system performance of home audio systems. CEDIA believes that RP22 will be "nothing less than game-changing" for the industry.
On the show floor, visitors will find plenty to inspire them in the Residential & Smart Building Zone in Hall 2, and CEDIA will present a programme of free content each day on its Smart Home Technology Stage.
Some of the major brands present in this Zone include CEDIA; Presenting Show Partner KNX; controls manufacturers including Basalte, Lutron, Rako, RTI and Snap One (owner of Control 4); and residential audio specialists including Focal, Harman Luxury, Sonance and Trinnov Audio.
In Hall 3, Crestron offers a variety of control devices and unified communications systems.