Mike Blackman #ISE20Years interview - part 6: Growth of the show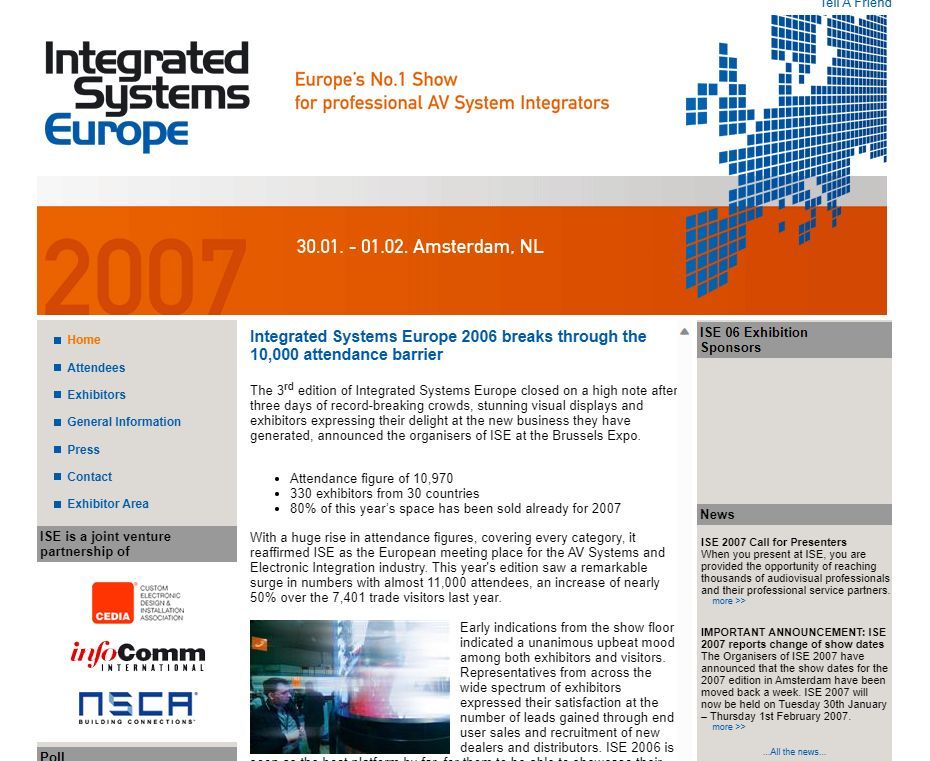 Integrated Systems Events Managing Director Mike Blackman looks at some of the reasons for ISE's growth over the years - and why it's important to listen to your customers.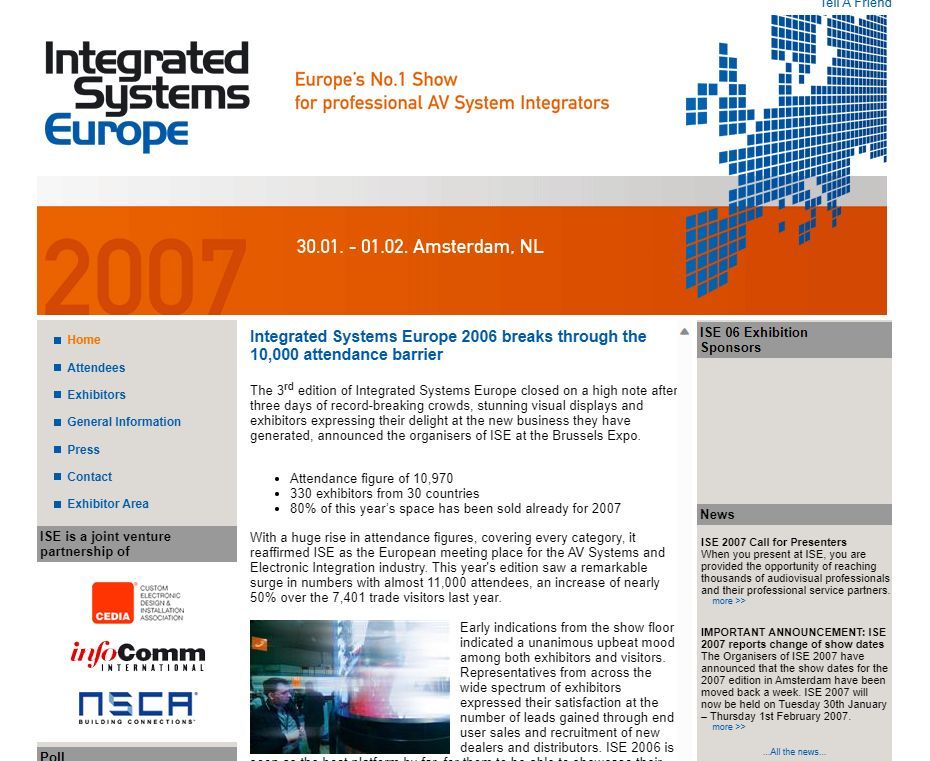 Over many years at Amsterdam, ISE's growth was basically a straight line – whether you look at visitor numbers, exhibit numbers or stand space. What do you think were some of the key decisions by ISE that drove that growth?
We listened to what our exhibitors and attendees were saying, and we gave them what they wanted.
We were bringing what the attendees wanted by getting the right exhibitors there and – it is chicken and egg, but getting the right exhibitors by bringing more and more of the right type of attendees. There were a number of shows back then, one or two that don't exist anymore, that were talking shops, they were more about white papers being delivered, but no buying, no meeting customers.
We were bringing the customers there, so that that made the exhibitors happy to be there because they were talking to the right people.
But surely everybody listens to their customers, don't they?
You hope so. All I can say is we do it, and obviously the results show that we do it well enough. Obviously we can't offer everything that's demanded by our customers, but we try to take a consensus of what the customers want and try to deliver that. As part of that we have our advisory committees, we have several of those now in each of the different technology sectors of the show. We listen to them, we try to understand who they are trying to reach, what do they need to do to present themselves in the right way, what do we need to change if it's possible, to make it possible for them to present themselves and deliver the customer experience that those attendees want. So that's why we listen. And we're getting the results from it.
We've talked internally recently about making sure that we do everything we can to ensure that exhibitors bring an audience with them.
One of the key things for exhibitors, at any show, is you need to invite your customers, your potential customers, and anyone you've got on the radar. There are two reasons. One is that it gives you a chance to have that face-to-face dialogue and perhaps learn things that you may not be aware of. The second is that it's quite likely your competitors will invite them as well, and it will look very odd if your competitor has invited an important customer of yours, and you haven't.
Even if they don't come, they will feel that link to you - they were invited by you with a free ticket to a show where you'd have to pay nearly €200 to go normally.
"We have to always be on the edge and looking and saying, 'OK, what do we need to do next to keep us where we are?'"
This keeps the quality of the customers very high because we believe our exhibitors will only invite those people who they believe are buyers. And because we have over 1000 exhibitors doing the same thing, it adds to that volume of the right people.
Do you think it's important to analyse what went well, and anything that didn't, after a show?
I think one of the strongest assets that ISE has had as a team is we sit down after the show and we dissect it. We look at everything we did – the good stuff and the bad stuff.
And we consider was the good stuff good because we did it right, or were we just lucky? And was the bad stuff bad because we did it badly and we could have done it better? I think that attitude has helped us evolve every single year to do things better, and that's why even the things that didn't work, we've learned from and moved on to better stuff.
I think this is one of the things that helps us move on every time. If you look at every single ISE, it evolves in terms of how the show is run. It evolves in terms of what sort of companies we have and what technology areas we develop, because we're looking at it and saying, "OK, where do we take this?"
I always think the danger is, we are the number one show in the world. So everyone's going to challenge us. To stay there, we can't just sit back, do nothing and accept that it's going to keep going and bubbling up from the bottom. We have to drive it. We have to always be on the edge and looking and saying, "OK, what do we need to do next to keep us where we are? What do we need to do next to keep us ahead of our competition? What do we need to do next to keep our customers satisfied?"