Education Technology Summit review
The 2023 Education Technology Summit saw a packed auditorium of education professionals and suppliers sharing good practice and reflecting on the relationship between humans and digital technology.
The event had a futuristic feel right from the start ,with participants encountering AHRT Media's holographic visitors in the lounge area. The speakers continued to impress delegates by outlining what is already possible and inviting them to think what some of these trends might mean for the future.
Angeliki Agorogianni and Georgios Roussos, from Aristotle University of Thessaloniki, described how, at the largest university in Greece, they have overhauled all of their teaching practices and implemented a live streaming service for academic events to cater for the fact that hybrid is their 'new normal'.
Keynote speaker Jo-An Kamp, from Fontys University, coaches ICT students in a range of topics including UX and design and has first-hand experience of how enthusiasm for designing a new tool, and getting it to work, prevents the innovator thinking about potential consequences of its use. Kamp outlined a highly plausible scenario where wearable technologies (in this case a ring) could be used to manage and control many aspects of our daily existence. The audience engaged in a lively debate about which aspects of the scenario could be beneficial and which were either annoying or downright frightening.
As usual, participants in the summit were able to take away more than just ideas. Kamp shared a link to a free Technology Impact Cycle Tool (TICT) developed at Fontys University. The tool can be used to help any designers, innovators, teachers think about and analyse the impact of introducing new technology and help avoid any unintended consequences.
Key takeaways from the discussion based on Kamp's scenario included the potential of digital technologies to support people with disabilities and special learning needs. Digital accessibility was foregrounded in a fireside chat between Piet van der Zanden from TUDelft and Marcus-Michael Mueller, Yamaha, who looked at speech intelligibility. This is a particular issue for hard of hearing learners but has a significant impact on the attention span and learning experience for all learners. Mueller illustrated the issues and possible solutions in a series of short video clips. The message here was technology can solve many of the problems but greater user awareness is required especially in terms of requiring remote participants to use, and test, their headsets and microphones.
The theme of technology enabling learning to be more inclusive came up in many of the other sessions and was a focus of the talk given by Maud Pols and Michel Bouman from Microsoft (and their avatars).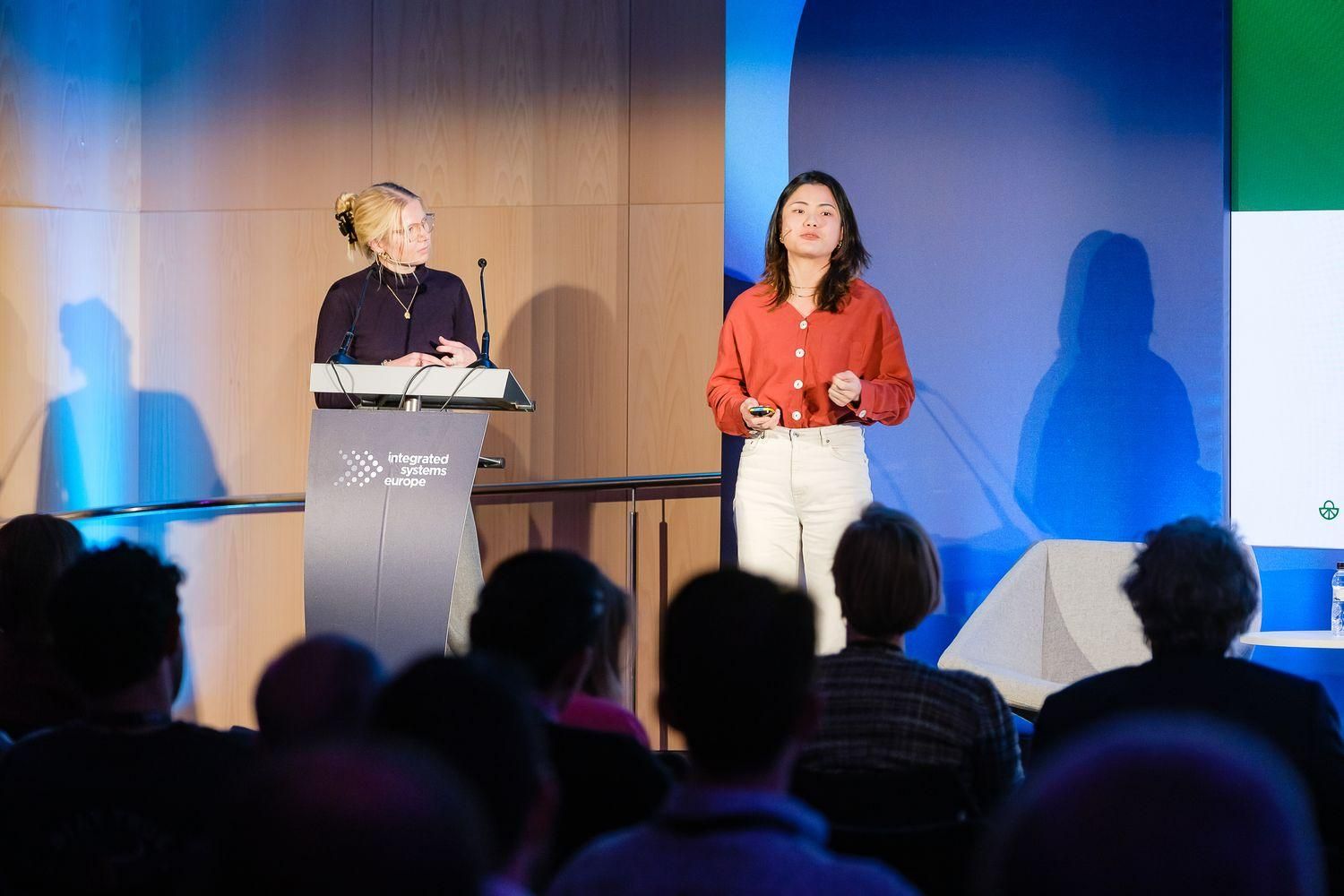 Jo Huang and Maria Uglvig from FeedbackFruits are passionate about using technology to improve pedagogic practice and this potential has been evident to them since their own student days. Uglvig was schooled in several different countries and feels learning is enhanced when students are enabled to use the full diversity of their lived experiences to bear on group work, problem solving and co-construction of knowledge. Huang went from being the brightest student in her class to struggling to grasp difficult scientific concepts whilst learning a foreign language at the same time. Flexible and more authentic approaches to assessment would have helped diverse groups such as Uglvig and her classmates and Huang would have benefited from lecture capture and captioning tools.
Huang and Uglvig are now working to transform assessment and feedback practice. They demonstrated how interactive audio and video tools can enable a collective learning experience that is very different to simply requiring students to consume multimedia resources. By fostering interaction around the learning resources, teachers gain a better overview of the level of student understanding and students are better engaged and able to support their peers. FeedbackFruits is using artificial intelligence (AI) in some of its tools and Huang and Uglvig described the company's ethical stance on AI and how it uses human feedback rather than student work to improve its algorithms.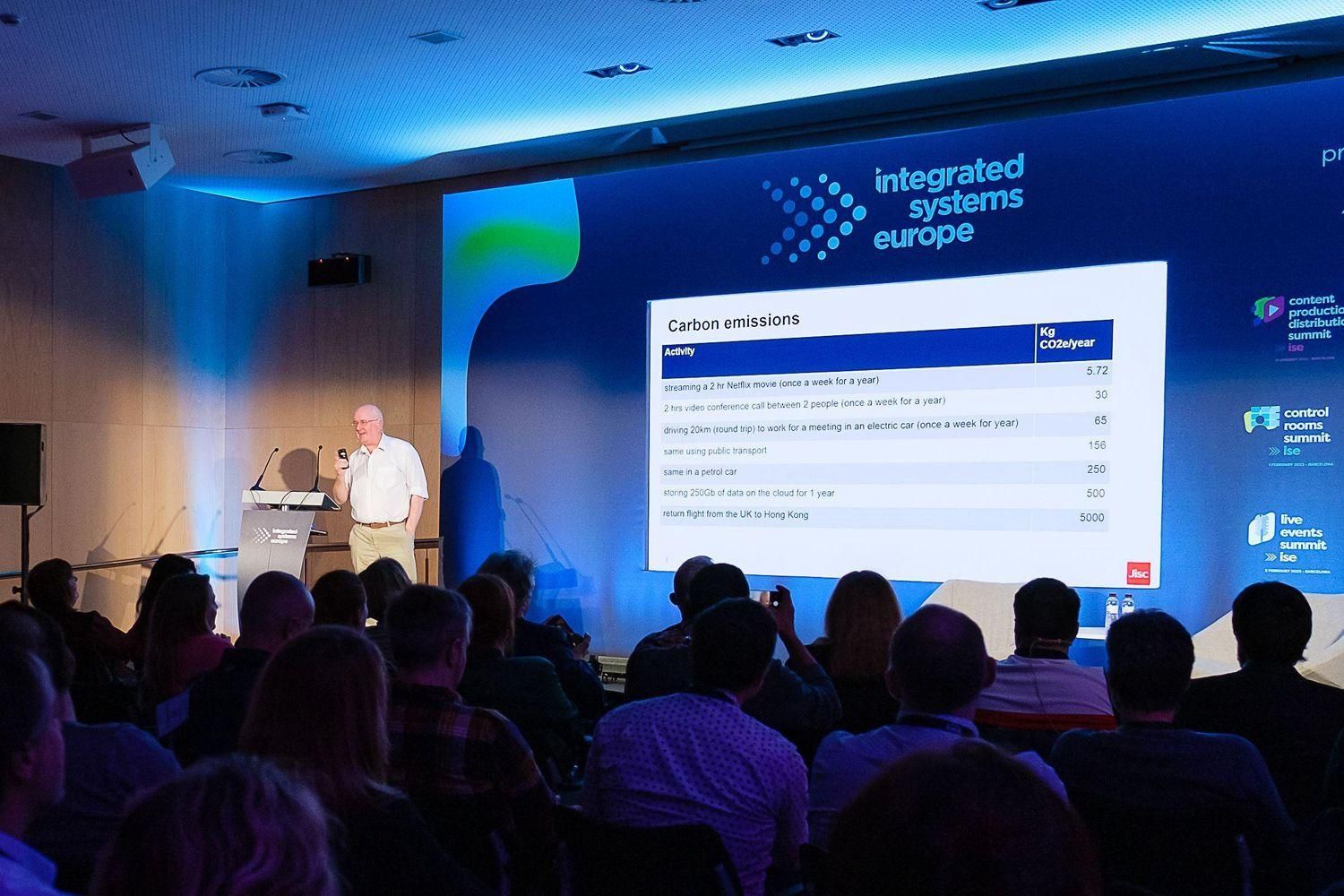 Paul Bailey from Jisc explored the question of whether digital technologies, especially those that are multimedia rich, are really 'greener' than traditional face-to-face teaching. Jisc's report on exploring digital carbon footprints is available to download. Bailey quizzed the audience on their understanding of the issues. Participants were able to judge the relative carbon impact of some scenarios but most of the audience members were surprised at the high carbon impact of data and media storage.
Despite some surprises, hardware manufacture and travel still came out as having the highest carbon footprint so the message for the audience was: buy AV and IT equipment that is designed to last and continue to use online and hybrid approaches where they fit the learning need. Bailey also made the point that low bandwidth learning resources (or technologies that can stream at lower bandwidth when necessary) can help mitigate against digital poverty whereby students do not have high-end devices and good Internet access.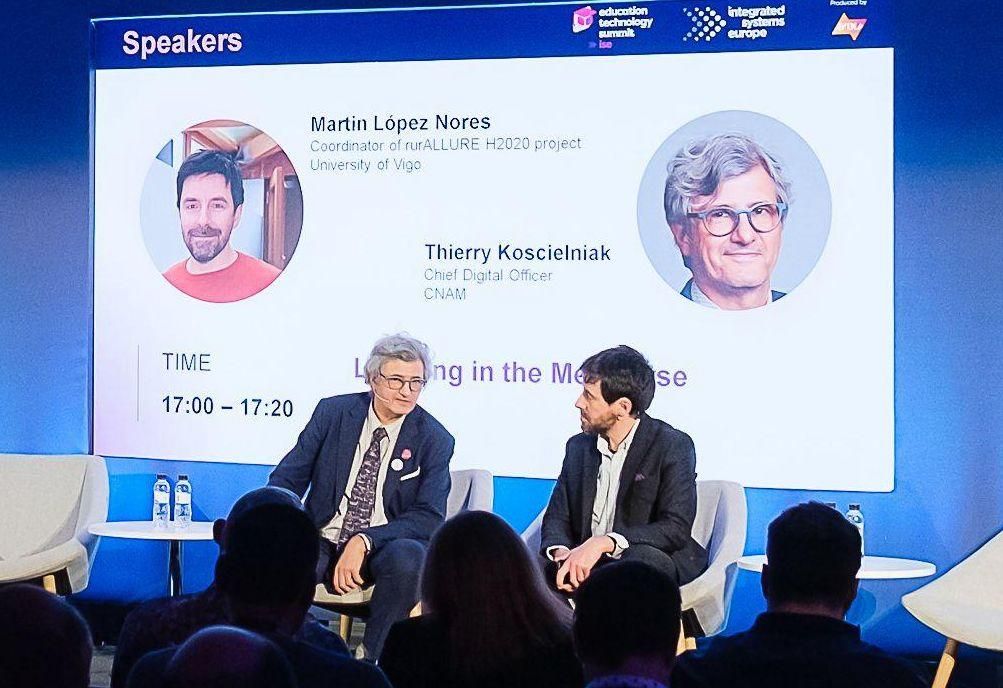 Thierry Koscielniak, CNAM, France and Martín López Nores, University of Vigo, Spain, took us further into the future discussing what implications the, yet to be defined, Metaverse might have for learning and teaching. Nores concluded that the Metaverse is unlikely to become a mainstream learning environment within the current decade. However, he feels that by 2030, it may have grown into a useful and familiar tool in which good teaching and learning can happen routinely, and that it may also serve to help build learning communities.
The team behind the ISE Education Technology Summit will be keeping a watchful eye on developments in the edtech world, including AI and the Metaverse, ready to bring you the latest news and examples of good practice again in 2024.